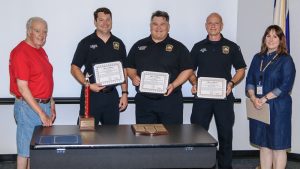 At our June 2016 meeting, PFRA presented the Above & Beyond Award to Firefighters Andy Scates, Chris Jefferson, and Calvin Cook.
Back in late January these three were on a flight home from Las Vegas after attending the annual clown conference when a female passenger had a very serious seizure.  They stepped forward and provided medical care to her and advised the crew that her condition was serious enough to warrant diverting the flight to the closest airport.  The pilot and crew later shared their thanks to our guys for their treatment and care for this passenger.
PFRA congratulates these firefighters for going Above and Beyond!