PFRA congratulates Madison Poe, Cole Campbell, and Tionne Stubblefield, who are the 2017 PFRA Scholarship Award recipients.
The PFRA application review committee had a very difficult time being able to select only three recipients as the entire pool of candidates were all outstanding.  The committee sends their appreciation to everyone who submitted an application and we know all these students will have a very successful education and career ahead of them.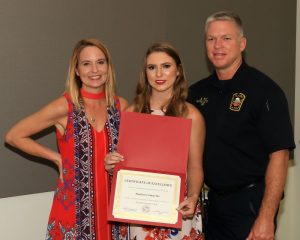 Madison Poe is the daughter of Steve Poe, Battalion Chief at Station 12. She will be attending Texas A&M in the fall, majoring in Political Science and continuing onto Law School to eventually become a family lawyer.  She plans to open her own non-profit legal practice to give priority to children who are victims of verbal and emotional abuse committed by their parents.  Madison was a straight A honors student while taking 7 Advanced Placement (AP) classes, and was awarded as an AP Scholar with Distinction in 2016. In addition to academics, Madison is also active in cheerleading and dance, where she also has won numerous top-place awards from competitions throughout her high school years.  Congratulations Madison!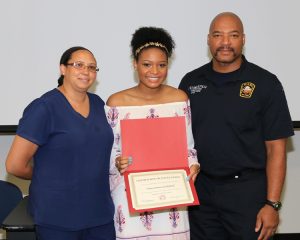 Tionne Stubblefield is the daughter of Michael Stubblefield, FF/P from Station 3C.  She will be attending Lyon College located in Batesville, Arkansas, studying medicine with an interest in becoming an Obstetrician and Gynecologist.  Because of her high academic standards and an interview at Lyon College, she has been awarded an Honors Fellowship at the college.  Congratulations Tionne!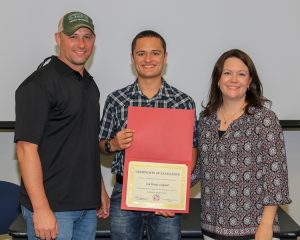 Cole is the son of firefighter Wesley Campbell at Station 5A in Plano. Cole has proven himself as a student who has maintained a 4.0 average throughout high school. Cole has been accepted at Colorado State University where he plans to study Wildlife, Fish, and Conservation Biology. He states that he…"finds a great deal of satisfaction being outdoors, and has a desire to protect and manage our natural resources."  Congratulations Cole!