Started in 2011, this trophy is given as recognition to firefighters who demonstrate an extra effort in the field, who display an extraordinary action, or who perform an outstanding activity that is above and beyond their normal call of duty. PFRA is notified by Fire Administration whenever a firefighter or apparatus company is recognized with a positive comment from the field. If the action performed is deemed extraordinary, PFRA will present this Above & Beyond award to the firefighter(s) at their station, take their picture for this web page, and publish a summary of the event for others to share in our congratulations. The trophy will remain on display at the station until presented at a subsequent award ceremony.
---
Presented to A, B, and C Shifts at Fire Station 1 on August 10, 2017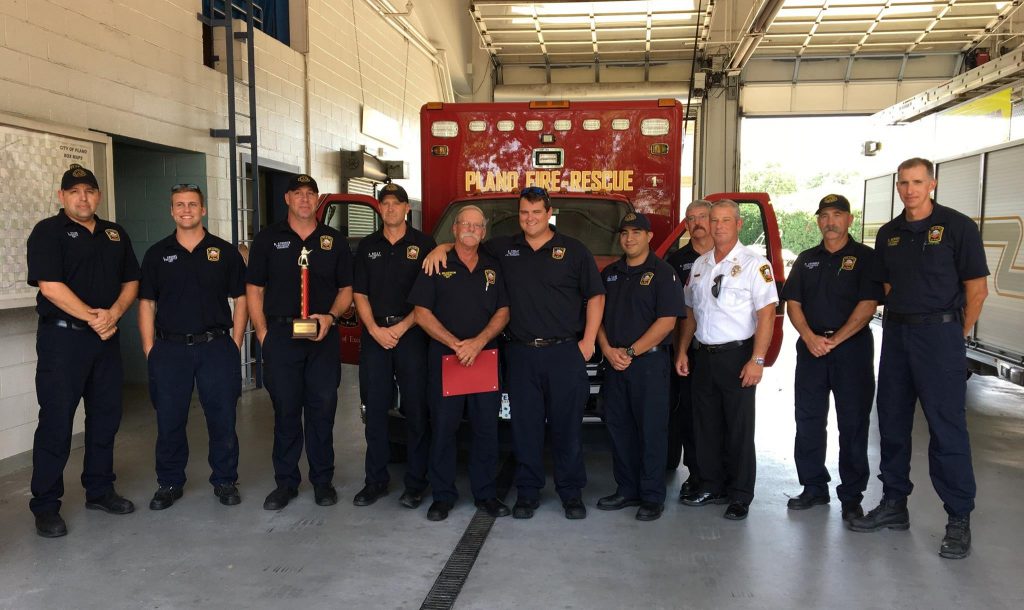 Earlier this year, all three shifts at Plano Fire Station 1 worked together to make sure a local family was outfitted with a special smoke alarm for a family member with a hearing impairment.
The A, B, and C-shift crews  at Station 1 recognized a need within the community and took it upon themselves to acquire and install a special smoke alarm unit to ensure the safety and well-being of this special needs resident who lives within their district.
PFRA congratulates Station 1 for going "Above and Beyond".
---
Presented to FRS Andy Scates (2C), Chris Jefferson (10C), and Calvin Cook (8C) on June 21, 2016
In January 2016, Plano firefighters Scates, Jefferson, and Cook were flying back to DFW after attending a fire clowns conference in Arizona.  During the middle of the flight, one of the plane's passengers suddenly became ill and began having a seizure.  Jefferson, Scates, and Cook immediately jumped in to help the flight crew secure the patient and stabilize their condition for an emergency landing.  The flight was diverted to the nearest airport where the patient was off loaded to waiting EMS, then the flight continued on to DFW.  The airline pilot and crew shared their thanks and appreciation directly to Plano Fire Rescue for these firefighters' treatment and care for this passenger.
PFRA congratulates FRS Scates, Jefferson, and Cook for going "Above and Beyond".
---
Presented to FRS John Barrett, Station 10A, on August 20, 2013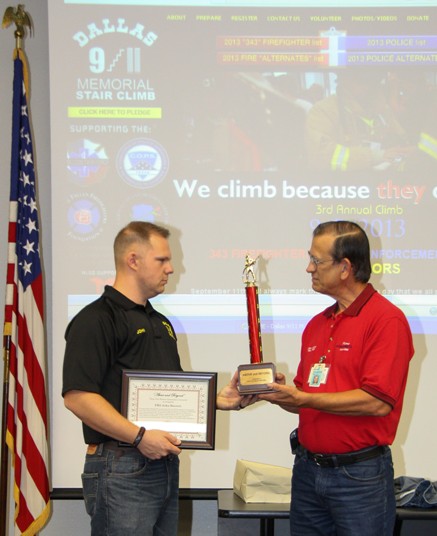 The 9/11 Memorial Stair Climb event is not a race, but rather a time to honor and remember the 343 NYFD members who selflessly gave their lives, so that others might live.
Firefighter John Barrett participated in the first 9/11 Memorial Stair Climb hosted by the National Fallen Firefighters Foundation (NFFF) on March 25th 2011. John was attending the Fire Departments Instructor Conference held in Indianapolis, IN.  The following Monday, the first planning meeting was held for the inaugural Dallas 9/11 Memorial Stair Climb, thanks to John.
The Memorial Stair Climb has a history. The very first climb occurred on Sept. 11, 2003 during "Operation Enduring Freedom" in Parwan Province,Afghanistan.  Lieutenant Charles Cogburn of the Albuquerque Fire Department scaled a two story building 55 times wearing body armor, a helmet and an M-4.  The Albuquerque Firefighters Memorial Stair Climb was born the following September when Firefighters from Engine 5 and Engine 2 were dispatched at 8:46 a.m. (the time the initial dispatch of FDNY units occurred) to the Bank of Albuquerque Building.  That building is 22 stories tall and it was climbed 5 times.
On September 11, 2005, five Colorado firefighters united in downtown Denver to climb 110 flights.  The following year, the second Denver 9/11 Memorial Stair Climb moved to the Qwest Building, the second tallest high-rise in Denver. That building was 54 stories.  Climbers began their climb in the basement and made the climb twice, for a total of 110 stories –the height of the World Trade Center Towers.  There were 12 participants in 2006.
As the news of the Denver Stair Climb spread interest surged.  In 2008, participation was capped at 343, the number of NYFD firefighters who were killed on 9/11.  2008 was the year when a remembrance feature was added.  Each climber was assigned a badge, with the name and photograph of one of the fallen firefighters of 9/11, symbolically completing the climb with one who couldn't.
Soon firefighters from around the country were contacting the founders of the Denver team to learn how to hold their own climbs.  In 2010 founders of the Denver 9/11 Memorial Stair Climb joined with the National Fallen Firefighters Foundation to establish the national standard protocol for future 9/11 Memorial Stair Climbs.
John Barrett used those standards to plan the Dallas event. John worked tirelessly from March 25th 2011 until September 11th 2011 to organize the inaugural Dallas 9/11 Memorial Stair Climb. He spoke to various groups seeking support for the Dallas event.  John held weekly planning sessions with a small group of volunteers in downtown Dallas every Thursday from 4:30 p.m. until 7:30 p.m. at the Renaissance Tower. He recruited firefighters to climb, volunteers to help with all of the organizational necessities.  He found companies to provide food for the volunteers.  John essentially ate, slept and breathed the first 9/11 Memorial Stair Climb in Dallas along with his wife.
On September 11, 2011 all of John Barrett's efforts came together when 343 firefighters from 84 Departments across Texas participated in the inaugural 9/11 Dallas Memorial Stair Climb. Each participating firefighter wore 30 to 50 pounds of protective gear as they climbed 110 floors at the Renaissance Tower. The Renaissance has 54 floors so the firefighters had to start in the basement and climb the stairs twice. In addition to the firefighters who climbed there were other firefighters present to step-in if any climber became ill and had to withdraw. Participating individuals carried the name of a NYC fireman who died on September 11, 2001.  Altogether 360+ firefighters from 4 states and eighty-nine fire departments participated in the event, raising almost  $160,000 to support the families of fallen firefighters.
John has continued to initiate and coordinate the Dallas Memorial Stair Climb each year, and he is currently preparing for the 2013 event.  John Barrett, one of Plano's finest firefighers, has helped to insure that we all "Never Forget" the 343. 
PFRA congratulates John Barrett for going "Above and Beyond".
---
Presented to FRS/Paramedic Chris Jefferson, Station 10C, on March 12, 2013
On Sunday, January 6, 2013, Mrs. Janet Lawton and her sister were traveling from her home in Forney to Amarillo to be with their ill stepmother.  Near Whitesboro in what she called the "middle of nowhere," the car had a blowout.  She said it was very cold out and she and her sister are "two little gray haired ladies needing help."
FRS Chris Jefferson (10C) pulled over and helped the ladies change the tire, got them to sit in his vehicle out of the cold while he did so and then gave them his cell phone number to keep with them on their trip in case they had any more trouble on the way.
Mrs. Lawton described FRS Jefferson as a "wonderful man" several times and was sure to include that he had his clown suit with him in the vehicle and told them about his alter-ego, Snozzle, in addition to his position here at the PFR.
PFRA congratulates Chris Jefferson for going "Above and Beyond".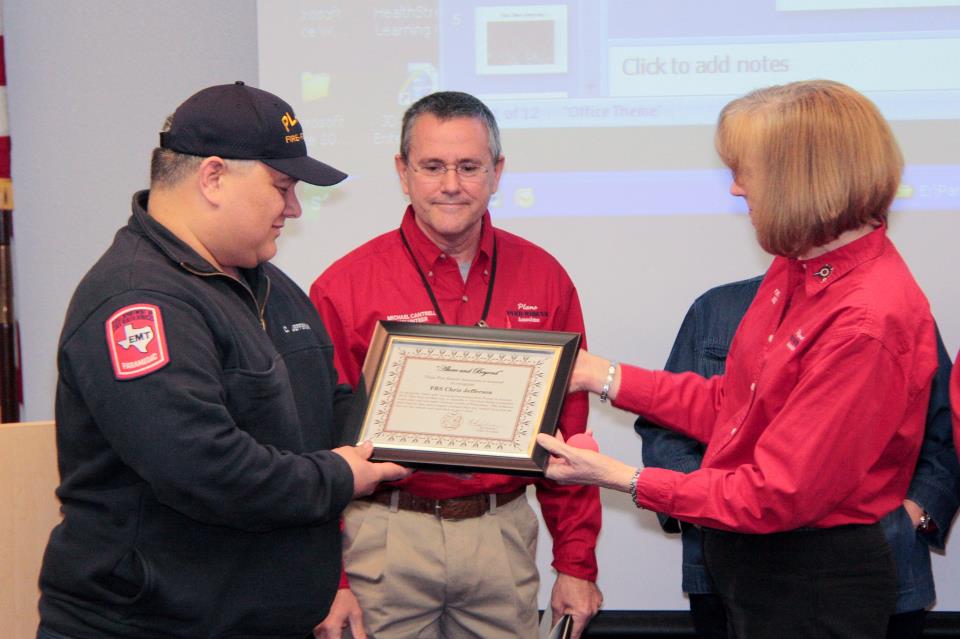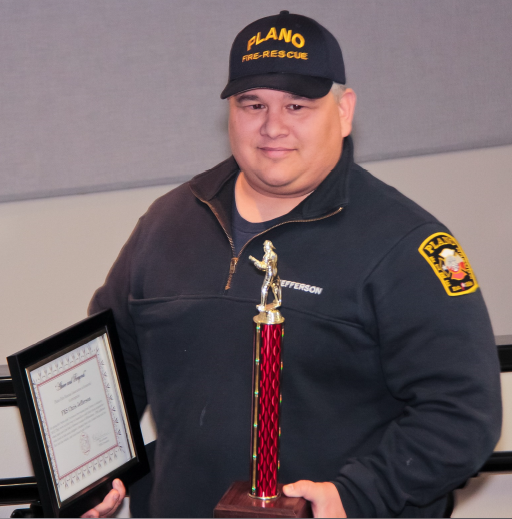 ---
Presented to FRS Jeff Kendrick and FRS Joshua Pitcox, Medic 3, A-shift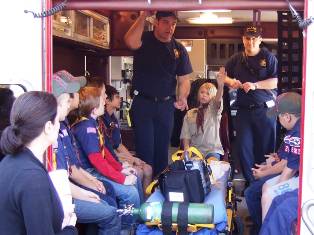 Presented on April 11, 2011

On February 13th 2011, Dr. Honaker, an ER physician at Medical Center of Plano, hosted a cub scout Webelos den at MCP for a merit badge course on READYMAN, teaching first aid, courage, and safety.  During the presentation, Jeff Kendrick and Joshua Pitcox, who had just finished up a patient transfer report, saw the Webloes and offered to show them the ambulance.  They let them climb into the back of the ambulance and sit on the benches and showed them all the stuff in the back, then showed them their bunker gear and let them feel how heavy it was.  Dr. Honaker says this was really was the highlight of their visit, and his Thank You was passed along in the department all the way to Chief Esparza.
Jeff and Josh could have left the hospital after their report and headed back to the station, but instead they saw an opportunity for teaching and gave these young cub scouts an insight to emergency medical services they otherwise would not have had.
PFRA congratulates Jeff Kendrick and Joshua Pitcox for going "Above and Beyond".