Thank You 2015 PFD Appreciation Picnic Sponsors!
Artic Zone Ice Cream
Wholesome Sweeteners
Nature's Bakery
Angie's Popcorn
Meguiar's Car Car Products
Oasis Paper Towels
Fling Bins
Goddess Garden
Rockstar Energy Drinks
Pollo Tropical
Tom Thumb
La Madeline
In-N-Out Burgers
Rosa's Cafe
Academy Sports & Outdoors
Cane's
Cordner Bakery
Rudy's
Jack in the Box
Sprouts Farmers' Market
McAllister's Deli
F'real
Taco Cabana
Hail Merry LLC.
Racetrac
Whole Foods
Maggiano's
Grimaldi's Pizzeria
---
Thank You 2012 Picnic Sponsors!
PFRA would like to thank the following establishments for their generous donations to the upcoming Plano Fire Department Appreciation Event on June 16, 2012!
Academy Sports & Outdoors
Bed, Bath & Beyond
Blue Goose Cantina
Blue Mesa Grill
Braum's Ice Cream and Dairy Stores
Cabot Creamery
FC Dallas
Five Guys Burgers and Fries
Frisco RoughRiders
Green Mountain Coffee
Headblade Products
Labrada Nutrition
M Crowd Restaurant Group (Mi Cocina, Taco Diner, The Mercury)
Market Street
The Capital Grille
The Egg and I Restaurants
The Texas Rangers
Elliott's Hardware
GoodBelly Products
Gorilla Glue, Inc.
In-N-Out Burger
Jason's Deli
Marut Enterprises, LLC
Panera Bread
Lowe's
Tiff's Treats
Chuy's
Volunteer Coffee
Texas Legends Basketball
TrashCo Inc.
THANK YOU 2010 PICNIC SPONSORS!
PFRA would like to thank the following donors for their generosity and support for the 2010 Plano Fire Department Appreciation Picnic!  When you visit them, please thank them for supporting PFRA and the Plano Fire Department!
Costco (75/Parker)
Home Depot (75/Plano Parkway)
Sprouts
Potbelly Sandwiches (15th/75)
Starbucks (15th/Custer)
Albertson's
Market Street
Academy Sports + Outdoors
Newflower Farmer's Market
Bed Bath & Beyond
Freebirds World Burrito (8420 Preston Rd)
MOOYAH Burgers & Fries
Community Coffee
Frito-Lay
Coca-Cola
Tom Thumb (14th/Jupiter)
Kroger (14th/Los Rios)
Fiesta (Avenue K/Parker)
Albertsons (Park/Shiloh)
Jim & Cheryl Fleming
Taylor Rental
2008 Station of the Month Sponsors
PFRA wishes to thank these gracious sponsors of our SOTM activities. Please visit them this week and say "Thanks" for supporting PFRA and the Plano Fire Fighters!
Thank you 2008 Picnic Sponsors!
PFRA graciously thanks these fine businesses and individuals for their generous donations, sponsorship, and support of the 2008 PFD Appreciation Picnic!
Total Air & Heat
Dr. William K. Browning
Dr. James H. Mulkey
Greg Kleinfall
Shirley Coffey
Greg & Sherri Stevens
Stonebriar Country Club
Academy Sports
Henry's Homemade Ice Cream
Angelika Film Center
Sprouts Farmers Market
Art Busche Construction
Texas Motor Speedway
Pizza Patron
Studio Movie Grill
Alliance Data
Celebrity Cafe & Bakery
Meat Matters Gourmet House
Albertson's
Elliott's Hardware
Chipotle
Firehouse Subs
Barnes & Noble Booksellers
Captain Carl Dane
Kerri Mayes
Terry Shelton
Shelley Jones
Bill Homrighausen
Plano Cycling & Fitness
Hirsch's Specialty Meats & Sausage
Lowe's of East Plano #0505
Tom Thumb
Market Street
SportClips Haircuts – East Plano
SportClips Haircuts – West Plano
Frisco RoughRiders
Keith Harris
Albertsons
Einstein Bros. Bagels
Jamba Juice
QuikTrip
Half Price Books
Yard Art Patio & Fireplace
Main Event Entertainment
Target
Mary's Gone Crackers
Corazonas Foods, Inc.
Knockouts Haircuts for Men
Wal-mart (Coit & 190)
Central Market
Potbelly Sandwich Works
SOYJOY
True Brew Organic Teas
McDonald's
Cheryl & Jim Fleming
---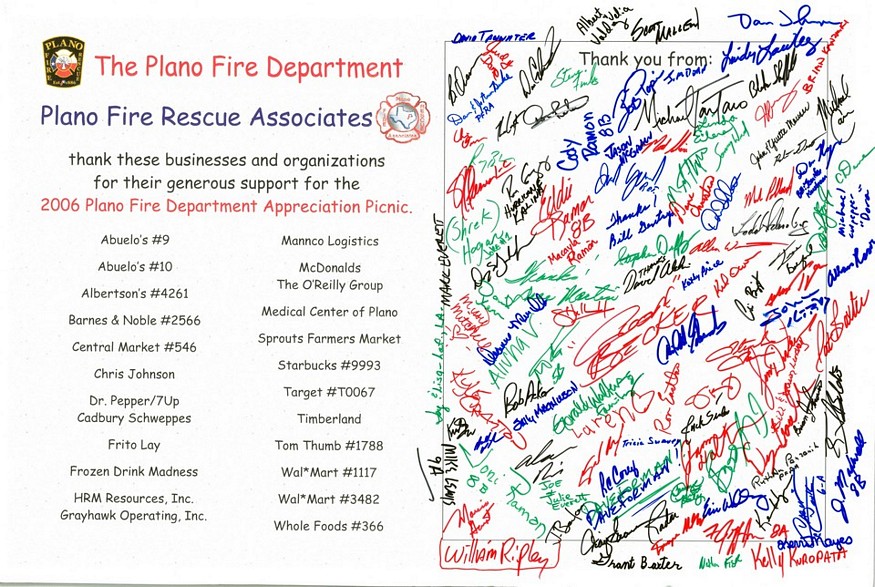 ---
And we also wish to thank these generous businesses and individuals who have provided financial support to PFRA in 2006:
Cadbury Schweppes Americas Beverages
Biznet Software
Thomas Stephens & Assoc. Inc
Marcia Hurst
HRM Resources, Inc.
Bell Nunnelly & Martin LLP
Phouc Van Ho
Gilbert Flores
Bob Casteel
James Holdridge
G T Fendrick
James Monti
Art Simmons
Frank #. Finn
Tony Maxwell 0 Medical Dev
Daniel Burke
Raymond Bittel
James Tawater
Stanley Fischer
Thomas Schultz
James Loi
Dan Hay
Michael Ussery
Rudolph memendez
Michael Bourque
Joseph Toedt
Ian Donnelly Systems, Inc.
PFIE
Trust Management Group, L.L.P
Mayse & Associates, Inc.
VHA Southwest
Avent (Jim Strand)
Alan Wood
2005 Corporate Contributors:
Cavender's Boot City
Dr. Pepper / Seven UP, Inc
Frito-Lay, Inc.
La Quinta Inn
Marriott/ Legacy Town Center
MBNA
Medical Center of Plano
Southfork Hotel
Tekelec
Timberland
Williams Sonoma
Whole Foods Market